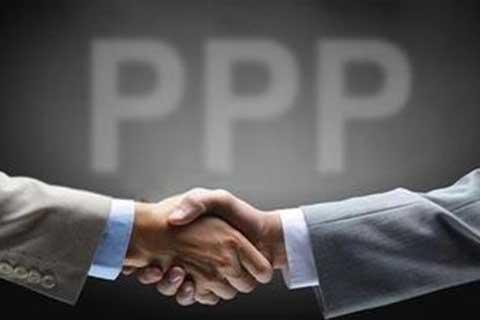 Dr. William Groff is a Board Certified Dermatologist specializing in cosmetic dermatology and laser surgery for over 18 years. Dr Groff is recognized as an acclaimed expert with laser procedures, injectables, vein therapy, body contouring, liposculpture, tattoo removal, and Pearly Penile Papules (PPP) treatment. He also has an excellent reputation for correcting "botched" laser and cosmetic procedures performed by others.
Dr. Groff creates a personalized plan for each patient based on their unique cosmetic goals. Every patient is considered special with their individualized needs. He uses state of art, innovative procedures and techniques that are designed to ensure natural looking results. Men and women choose Dr. Groff to help them achieve their cosmetic goals because Dr. Groff has the Experience You Can Trust!
Dr. Groff has achieved a number of prominent awards but the most meaningful recognition to him is from his patients. Dr. Groff is honored that his patients have voted him consecutive years in a row, La Jolla's Best Dermatologist and Best Cosmetic Surgeon in the La Jolla Light Readers Choice Poll. In addition to these prestigious honors, the San Diego's Best U-T Readers Poll has also named Dr Groff San Diego's Favorite Cosmetic Surgeon, Favorite Cosmetic Dermatologist and Favorite TV Personality for his "Ask the Derm" segment on FOX 5 San Diego.
Most recently, Dr Groff won Aesthetic Everything's 2017 Diamond Crystal Award for being the Top Aesthetic Doctor, Top Dermatologist West, and Top Body Sculpting Doctor.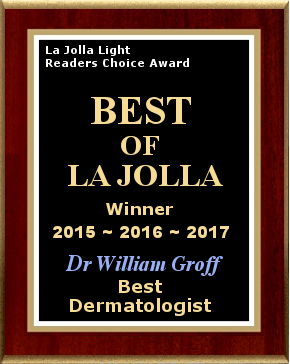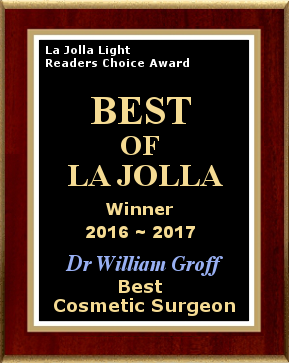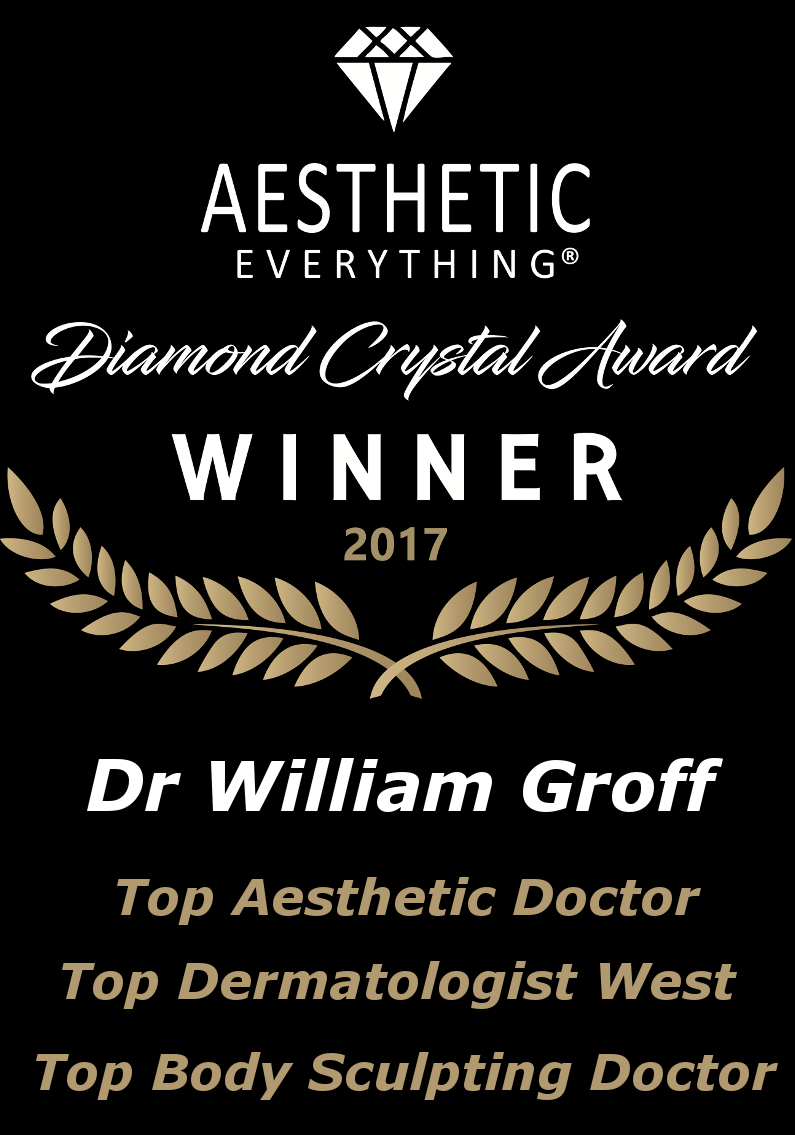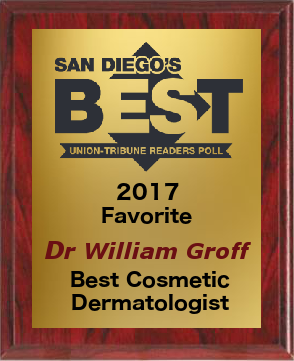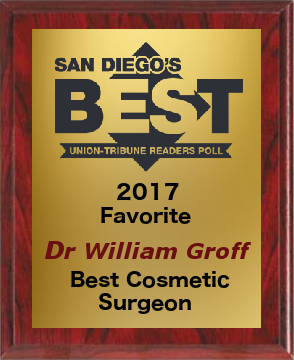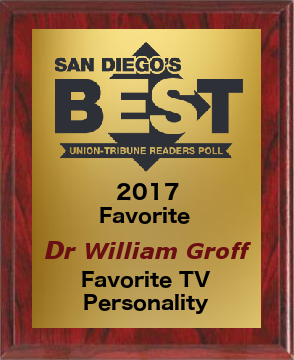 Philosophy

Dr.Groff's mission is to give his patients honest, thorough evaluations and to recommend and perform procedures to achieve optimal results for his patients. His philosophy is to enhance each person's natural appearance in a way that makes them look rejuvenated and produces a natural looking result with minimal treatment.
Dr Groff sets the standard for excellence in patient care. He feels that his patients deserve to receive the highest quality of care and service with each treatment. He strives to give his patients 5 Star Service!
Dr Groff believes that his availability is critical to his patients. His patients know they can contact him anytime with their concerns. He personally answers all his patient emails and welcomes the opportunity to meet with patients without charging a consultation fee.
Dr Groff takes great pride in his ability to transform lives one patient at a time. He has helped thousands of men and women gain confidence in their appearance and gain a new lease on life.
Innovator

Dr. Groff prides himself with staying on top of the latest technologies and newest techniques in order to offer his patients the most cutting edge cosmetic dermatology and laser surgery procedures. His practice has over 58 laser and light-based devices. Dr Groff has also participated in many clinical research trials that have led to the FDA approval of several cosmetic laser devices and cosmetic injectables.
Being an innovator, Dr. Groff has pioneered some of the latest advances in laser skin resurfacing including a technique called Ultra Repair. Ultra Repair a is non-surgical alternative to a facelift. Dr. Groff creates a unique treatment plan based on each patient's specific cosmetic procedure needs. Then by combining the use of multiple laser treatments and therapies including fillers and botox, Dr. Groff is able to rejuvenate the skin and treat the signs of aging by reducing the appearance of sun damage, wrinkles, skin imperfections on a patient's face, neck and chest. This technique provides patients with incredible results making patients look 10 to 15 years younger.

Training Physician & Lecturer

Dr. Groff is well known among his peers for being an outstanding Training Physician for injectables and lasers.
As an advanced cosmetic injector, Dr. Groff serves as a trainer and key opinion leader for Allergan Inc® (Botox Cosmetic, Juvederm®, Voluma™ XC, Kybella, and Volbella), Galderma (Restylane®, Perlane®,Dysport®, and Sculptra Aesthetic), and Merz Pharm. (Radiesse®, Belotero®, Xeomin®). As a master trainer, Dr. Groff teaches other physicians advanced injection techniques using these products.
Having a true passion for cosmetic dermatology and laser surgery, Dr. Groff travels worldwide to lecture on the latest advances in cosmetic dermatology to fellow dermatologists and plastic surgeons. As leader in his field, Dr. Groff has given over 100 lectures in 10 different countries on laser resurfacing, injectables and body contouring. Dr. Groff has also published over 15 articles in peer-reviewed dermatology and plastic surgery journals.
Media Spokesperson

Dr. Groff has been featured several times on the nationally televised show, The Doctors, as well as, appearing on both national and local television news programs for his vast expertise. He is also a regular Dermatology Correspondent on Fox News.
Dr. Groff's media appearances can be seen on his YouTube Channel which has over 100 videos discussing cosmetic dermatology topics and demonstrating various procedures. Dr. Groff adds new videos to his Channel on a regular basis. To be alerted when a new video is released, SUBSCRIBE to his YouTube Channel.
Caring Man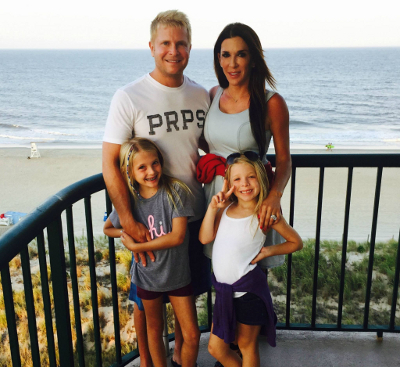 Dr. Groff and his wife, Stacey, reside in San Diego with their two daughters, Jenna Alexis and Piper Silk. While on his Naval tour of duty in Japan, Dr Groff and his family fell in love with the Japanese culture and the people.
On March 11, 2011, the Groffs were devastated to hear about the Tsunami that killed many of their Japanese friends and left thousands of children homeless. Even today, residents of Japan are still recovering from this disaster. Since the Tsunami, Dr Groff with his family work tirelessly fundraising and supporting Helping Hands for Tohoku, an organization that helps those living in temporary housing following the 2011 Tsunami.
Giving back is a priority in Dr. Groff's life. To help local children, it is a Groff family tradition to help the Maine Corp with fundraising and collecting toys to donate to Toys For Tots.
In his spare time, Dr. Groff enjoys weightlifting, surfing, snowboarding, and international travel.