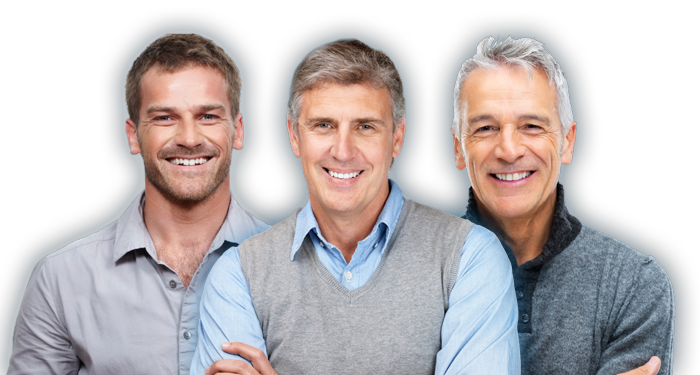 Why men have Cosmetic and Laser Procedures?
Most men have cosmetic dermatology and laser procedures done because they want to look and feel better about themselves. Some men are motivated to make improvements to their appearance to maintain a competitive edge in the job market. Some men decide to have procedures done when dieting and exercise cannot achieve their desired results. Bottom line, men want to be at the top of their game and their appearance can give them additional confidence. How a man looks can affect his attitude, his self-esteem and ultimately his business and social success.
Over the last few years, with the increase of minimally invasive procedures available, more men of all ages are having cosmetic and laser procedures done with minimum to no downtime.

There is no need for men to live with the aging effects on their appearance any longer.



What sets Dr. Groff apart from other Dermatologist?
When choosing the right doctor for your cosmetic needs, it is important to choose a Board Certified Dermatologist with experience in "male" cosmetic dermatology procedures. From his service in the Navy and throughout his career, Dr. Groff has specialized in treating men and understands a man's cosmetic needs and concerns.
Dr. Groff has unsurpassed, expert knowledge regarding male facial aesthetics and skin which is critical to obtaining a natural male look. His extensive experience with male cosmetic dermatology and laser surgery ensures that each man receives customized treatment based on his individual needs. Dr. Groff's goal is to deliver subtle, natural results that have you looking rejuvenated, healthy, and fit without the appearance of looking artificial or overdone.
Services and Conditions Treated
The following is a comprehensive selection of Services offered by Dr. Groff to treat conditions that can help Revitalize Your Appearance. Whatever your rejuvenation concerns, Dr. Groff has the experience you can trust along with cutting edge, innovative procedures and techniques to achieve your desired goals. For more information about these Services and to schedule your free consultation, please CONTACT Dr. Groff.
LASERS PROCEDURES: Dr. Groff can choose from over 45 lasers in his practice to treat acne and acne scars, facial lines and deep wrinkles, dark spots and discoloration, rejuvenate sun damage skin on the face and body, hair removal, tattoo removal, scar removal, pearly penile papules (PPP) removal, treat precancerous lesions, improve skin tone and texture, remove facial redness, broken blood vessels and facial veins

BODY CONTOURING: Remove excess fat from stubborn areas like love handles and abdomen area, tighten and lift sagging jowls, brows, cheeks, under chin and neck, contour and firm up excess loose skin, create strong jawline definition, improve skin's elasticity
INJECTABLES: Restore loss facial volume, smooth and soften forehead creases, frown lines, crow's feet, facial folds and creases, correct volume loss for sunken eyes, hollow cheeks and temples, melt away double chin fat, improve recessed scars, treat underarm sweating and sweaty palms

VEIN THERAPY: Remove unwanted spider veins and varicose veins from your legs, hands, face, and chest

Photo Gallery & Videos

Dr. Groff believes one of the best ways potential patients can learn about his work is by viewing treatment results of his actual patients. These before and after photos are 100% unretouched. In addition to viewing these photos, Dr. Groff invites you to view his videos below where he discusses men's cosmetic concerns and demonstrates injectable and laser procedures.
To view more videos, go to Dr Groff's YouTube channel.
Click on an image to view the Photo Gallery.
In this video, Dr. Groff discusses the 5 most popular cosmetic procedures for men. More men are having procedures done because there are now simple, highly effective, and minimally invasive solutions to solve men's cosmetic issues.
In this video, Dr. Groff performs IPL treatment with the Lumenis M22 on his patient's face. This is a skin laser treatment that treats brown spots/pigmentation, skin redness, broken capillaries, fine lines, improves skin texture and stimulates the formation of new collagen in the skin. This laser can treat the face, chest, neck and hands. There is no downtime and minimum side effects.

In this video, Dr. Groff performs a Botox procedure on a man in his 30's to soften the crow's feet area around his eyes when he smiles. When injected by a Botox expert, Botox is a safe, effective way to minimize the appearance of fine lines and wrinkles.
As a regular Dermatology Correspondent for Fox News, Dr Groff's has a segment called "Ask the Derm". In this video, Dr. Groff answers questions concerning men's problems with their neck area such as razor burn and stubborn fat deposit.
In this video, Dr Groff discusses and treats cherry angiomas. A cherry angioma is a mole-like skin growth made up of small blood vessels. Cherry angiomas are easily treated with the Vbeam Laser. After one or two zaps the cherry angioma will turn purple grey color and disappear in about 2 weeks.
In this "video, Dr Groff skillfully removes a tattoo using the newest lasers: PicoSure & PicoWay. These are the 2 best lasers on the market to remove tattoos because they are the strongest and work the fastest to remove tattoos. Prior to the laser procedure, the area is numbed so there is no pain. The size of the tattoo will dictate the amount of treatments necessary to remove the tattoo.
In this video, Dr. Groff performs Fraxel Restore laser resurfacing treatment on a patient with acne scars. Fraxel Re:store is non-ablative laser that stimulates collagen production to improve many skin conditions including fine lines, large pores, sun damage, acne scars, and skin texture. This laser resurfacing treatment is gentle and safe for face, neck, and body with little downtime.